Crypto applications are now more popular than ever. In Q4 2021 alone, new installs of crypto apps skyrocketed by 902% year-on-year .With the recent FTX collapse further eroding trust in centralized platforms, there is now renewed interest and demand for decentralized services. 
To access dApps and DeFi services on multiple blockchains, you can use crypto wallets that integrates with WalletConnect. Moonstake is one such wallet that supports WalletConnect, as well as 17 leading PoS chains, each with their own DApp ecosystems. In this article, let's learn more about the WalletConnect protocol and how to use it to access your favorite apps and services on Moonstake Wallet!
What is WalletConnect
WalletConnect is an open-source protocol that establishes a remote, encrypted connection between crypto wallets and dApps of multiple supported blockchains like Ethereum and Cosmos.
As of v2, WalletConnect supports connecting to multiple chains at once, decentralized messaging between compatible wallets, and direct push notifications that notify users of incoming transactions. This makes it a secure and convenient solution to access dApps especially using handy mobile wallets.
How WalletConnect Works
Currently, WalletConnect supports connection between more than 170 wallets, including Moonstake, and 450 dApps like Uniswap and Aave. Users of a compatible wallet can scan the QR code of the compatible DApp to start paying for dApp transactions with their wallet funds and confirm transactions with the wallet.
Is WalletConnect Safe?
WalletConnect uses a shared key between the two peers to develop a symmetrically encrypted connection, where information is only transmitted between them and securely encrypted. No third party has access to this key This is claimed to be safer than connecting with browser extensions like MetaMask.
How to Use WalletConnect on Moonstake
Both the mobile and web versions of Moonstake Wallet support WalletConnect, allowing users to connect to various DeFi and dApps without any restrictions on devices or browsers. In this detailed step-by-step guide, we will use the mobile wallet as the example.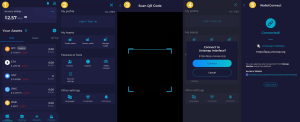 Go to the top right menu to access "Settings".

Click the "Wallet Connect" button.

Scan the QR code displayed on the DeFi / dApps side of the connection.

Click "Connect" to start the connection.

Once connected, you can start confirming transactions made on the DApp using your wallet. Your wallet funds will be used for these transactions. To stop, simply click "Disconnect" and confirm.
Note:
With the Moonstake mobile wallet, the QR code needs to be scanned with a camera to access DeFi / dApps, therefore the DeFi / dApps service cannot be opened on the same device and connected to it. Please display the QR code to connect to DeFi / dApps on another device, and scan the QR code from the mobile device to access the service.

While using WalletConnect, exiting the connected screen will disconnect you from the DApp. You can stay on the connected screen and approve transactions there.

The dApps will support its own set of chains, so you will not see all of your funds on Moonstake Wallet on the DApp, only the balance of the coins the DApp support. For example, Uniswap only supports Ethereum, Polygon, Optimism, Arbitrum, and Celo.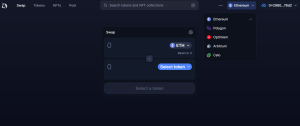 How to Ensure Safe Transactions When Using WalletConnect
WalletConnect is a secure solution to access dApps but it is by no means foolproof. There is always a user risk when interacting with any online application. As with any crypto transaction, check that the recipient address and transaction amount are correct before confirming it. This is to ensure that the dApp isn't altering the transaction details with any intention of sending a malicious transaction, especially if you are using a more obscure dApp. Make sure to DYOR on dApps before trying out any of them. You can consult DApp data aggregators and ranking sites to see how active and trusted the app is.
Additionally, it's a good practice to disconnect your wallet from the dApp once you're finished with your transaction. You must also make sure that you're accessing the dApp with a secure, trusted URL. And if you are using public WiFi, turn on VPN to keep yourself protected.
Moonstake also natively supports the Shiden dApp Store natively for users looking to stake with Shiden dApps via an official app store without needing to use WalletConnect. Follow us on Twitter and Telegram for the latest updates on Moonstake news!
About Moonstake
Moonstake is the world's leading staking service provider that develops and operates decentralized wallet services for businesses and individuals.
Since its launch in April 2020, Moonstake has partnered with 27 leading platform providers, including Cardano's constituent Emurgo, developer of the Polkadot-connected blockchain Astar Network Stake Technologies, and the TRON Network with over 50 million users. In May 2021, Moonstake further enhanced its corporate credibility by becoming a wholly owned subsidiary of OIO Holdings Limited, a company listed on the Singapore Stock Exchange.
Using blockchain technology, Moonstake aims to progress toward a world where anyone can easily make use of highly secure and reliable digital asset management tools.
About Moonstake's staking business
For the staking industry, which has grown into a 630-billion dollar market as of September 2021, Moonstake provides a decentralized staking service that does not require user deposits, and supports nodes around the world in addition to its own validator nodes. Moonstake currently supports the staking of 17 blockchains. With a total staking assets of 1.8 billion USD and a global user base, the company ranked third out of more than 10,000 providers worldwide in June of the same year.